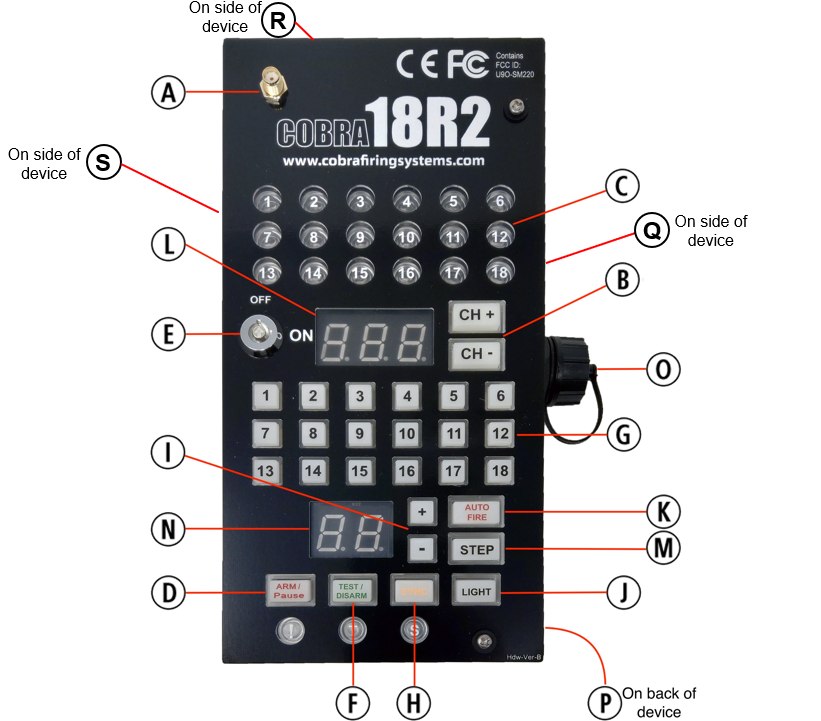 A) Antenna Connector

Connect the standard omnidirectional antenna, COBRA Booster, COBRA DISH, or a combination of the three.
B) CH+, CH- Buttons

Press up or down to navigate between channels. Holding the CH+ or CH- button will allow for fast scrolling.

C) Cue LED Indicators (1-18)

Displays continuity, firing status for the selected channel, and script loading progress.

D) ARM/Pause Button

Press to ARM the 18R2 or pause/resume an automated script. Hold ARM for 3 seconds to refresh the armed module count and reload the script to all modules.

E) Key Switch

Insert key to power off and on the 18R2




F) TEST/DISARM Button

Press to DISARM the 18R2 and display continuity and module addresses. Holding TEST for 3 seconds will refresh the module count.


G) Cue Buttons (1-18)

Press buttons to manually fire a cue. Also, use buttons to start scripts and other advanced functions such as alternate firing.

H) SYNC Button

Use to sync 18R2 to 18M, 36M, 72M, 6M, and Audio Box. Also, use the SYNC button to test signal strength.


I) + and - buttons

The plus (+) and minus (-) buttons. Press to increase or decrease timing between events for auto firing. Also, use to adjust script timing mid-show.

J) LIGHT Button

Press to turn the remote backlight on and off. Press and hold to adjust brightness.

K) AUTO FIRE Button

Press to set requirements for a fixed delay AUTO FIRE sequence and to execute the AUTO FIRE sequence. Press again while auto fire is running to stop the sequence.

L) Top three 7-segment displays

Displays the 18R2 channels. Also displays information such as module address and count, signal strength, warnings, error codes, and other information.


M) STEP Button

Press to execute basic STEP firing or STEP scripting. While the time script is running, press the STEP button to advance to the next event.

N) Bottom two 7-segment displays

Displays the auto fire fixed timing delay, the countdown to the next scripted event, and other information.


(O) USB Port

Connect to COBRA Control Panel, load automated scripts and firmware updates.

(P) Battery Compartment

Place 3 x AA batteries into the compartment to power the 18R2.


(Q) Deadman Port (Optional Upgrade)

Connect to the COBRA Deadman Trigger.


(R) Timecode RCA Port (Optional Upgrade)

Connect an RCA cable to support SMPTE Timecode control.


(S) Charge Port (Optional Upgrade)

Connect a COBRA charger to charge the internal LiPo battery.