COBRA Show Creator version 1.3.1 includes new features such as Find and Replace, the ability to edit multiple events, estimated show duration, and more.
Find and Replace
Added a Find and Replace feature. Users can access this feature by using the keyboard shortcut Ctrl/CMD + F while on the event list. This feature allows users to quickly find events, as well as individual or bulk, replace fireworks and DMX effects with items in your My Fireworks/DMX Effects.

Event Time Editor
The Event Time Editor is reworked with new features and aesthetic updates. We combined two previous options to allow the user to select no delay, or add a delay after the previous event's duration. Changing an event to STEP or Alternate is also faster by only requiring one action instead of two. Lastly, both the Current Time and New Time are shown for more visibility into the change that is being made.
Edit Multiple Event Times
Added the ability to edit multiple event's duration and event types. Selecting multiple events and right-clicking reveals a new action, Edit Selected. This new option allows the user to change more than one event to have the same duration, set a delay after each event, shift all events, or change all events to STEP, Alternate 1 or 2.
If you wish to automatically assign event times to multiple events based on their firework duration, you can select multiple events and choose the "delay after previous event ends" option. For example, by entering all events in your show as STEP events, you can use this feature to quickly assign the event times in order based on event duration.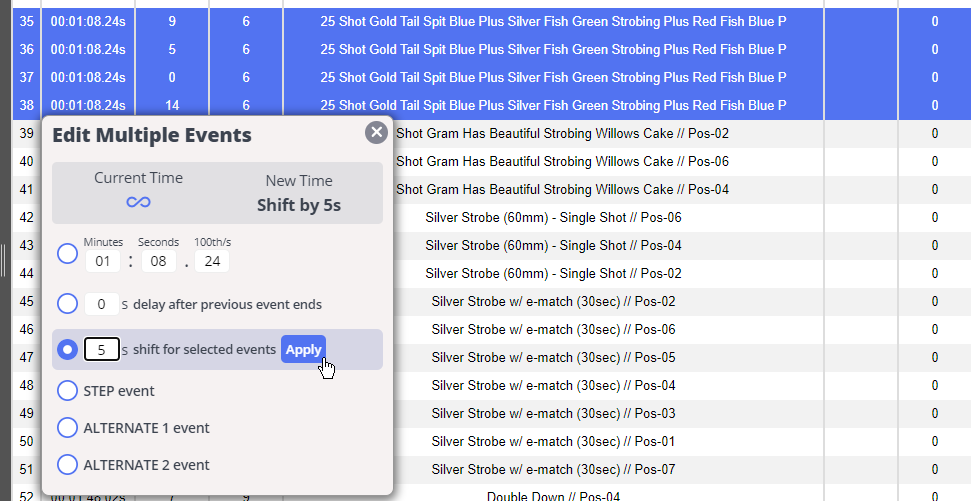 Estimated Show Duration
Creating a new show without audio now prompts the user to enter an estimated show duration. This allows the waveform to better represent the needed length of your show. If you need more duration, it can be updated from the Show Settings. Also, the waveform will automatically increase in one-minute increments if an event's duration runs longer than the end of your estimated show time. Previously, all shows defaulted to a 30-minute waveform that was not easily expandable.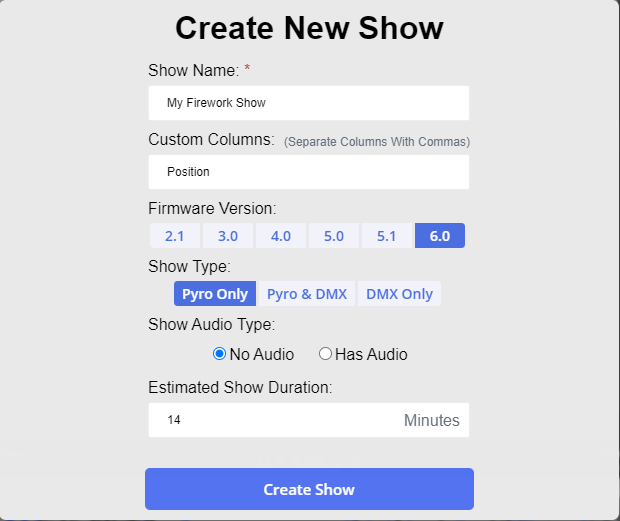 Bug Fixes and Other Improvements
Bulk Import Fireworks now accept a wider range of category names to make importing easier.
The Pyro/DMX visual indicator and DMX universe columns now show in the SMPTE player.
Fixed a bug that prevented SMPTE Player from showing on the left navigation bar in rare cases.
Added a notification email when changing your email address.
Various wording changes and spelling errors were fixed.
Fixed a display issue with Comment rows not formatting correctly on DMX shows.

Fixed the Custom Column formatting issue in My Shows.

Added improved tooltips for a show's show date in My Shows.

Fixed a bug where STEP event manual confirmation was being skipped during playback.
Updated Keyboard Shortcuts window to include new shortcuts for editing events, exporting shows, and various shortcuts that can be used in the Event Time Editor.