The 5.0.2 / 5.0.3 / 5.0.5 release is our current BETA release for the new 5.0 firmware version. If you are currently operating the 5.0.0 BETA release, we recommend you upgrade to the 5.0.2 / 5.0.3 / 5.0.5 version as it addresses several issues detailed below. The 5.0.3 version is for the 18R, 36M, and 72M only and is compatible with all other equipment running 5.0.2. The 5.0.5 version is for the 18R2 only and is compatible with all other equipment running 5.0.2 / 5.0.3.
---
Major New Improvements
COBRA MESH

Firmware 5.0 introduces the COBRA MESH wireless communications protocol. A signal miracle worker, MESH allows all devices to participate in signal communications. Every module now repeats all communications to all devices minimizing or eliminating the need to raise modules or use extension cables. For example, modules assist to repeat communications over hills and around buildings to produce a worry-free signal environment. Once upgraded to 5.0, the MESH network functions automatically for all devices including module hardware revisions A and B. No user action is required, simply operate on version 5.0 and you will leverage this shared network. For more on the COBRA mesh protocol please see What is MESH, and how does it work?
1/100th Second Timing
COBRA now supports 1/100th of a second timing. Same as earlier versions, you can fire unlimited cues across unlimited channels on the first script in the COBRA script file. The new timing feature is supported on all 18M hardware B versions shipped on 6/15 or later. Unfortunately, existing 18M hardware A versions cannot be upgraded. However, they are fully supported as they will round to the nearest 1/10th of a second. The new time format simply adds a second decimal space. For example, 1 minute, 30.05 seconds is 00:01:30.05. The 2nd decimal place is optional.
2nd Alternate Firing Button
In firmware version 5.0.x COBRA introduces the second alternate. The alternate firing feature is fantastic for filling any unwanted dark sky. The COBRA Alternate allows you to pre-plan a set of cues to fire at the press of a pre-determined alternate button. For more information on the COBRA Alternate events feature please see What is an alternate firing event, and how do I use it within my script?
---
Control Panel
Field Map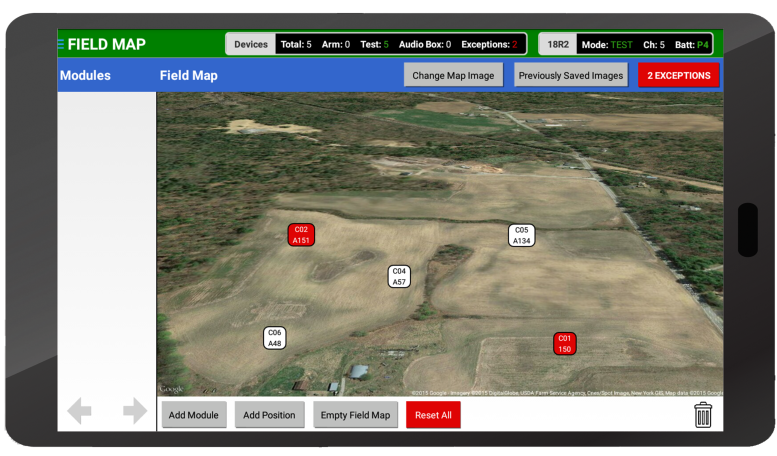 COBRA has introduced a new feature that allows you to easily place your field positions and modules on a location map, making troubleshooting quick and easy when working interactively with your operators. Using Google Earth Satellite Imagery when connected to Wifi, you can easily obtain a picture of the shoot site including a 3D perspective view. All images can be saved and accessed from the Control Panel, even when not connected to the internet or 18R2. Easily create new positions, drag and drop modules onto the field, and click on modules to gain detailed information including signal, battery life, and continuity data. Any modules or positions with possible issues are highlighted in red for the user to quickly fix the issues without having to go back to the Device List
Offline Mode
Offline Mode allows you to access some system features without being connected to the 18R2 Controller. For example, setting up your modules in advance within the Manual Fire or Field Map feature. All setup is saved within Control Panel and available once closed and reopened at a later time. This is helpful if you wish to set up your Field Map the night before, or are assigning module/cue labels on the shoot site prior to powering on your 18R2.
Minor Improvements
Within the 5.1 release, there have also been a few minor improvements to the Control Panel device list, show controls, and manual firing UI.
Bug Fixes
This firmware version also includes many bug fixes. For a comprehensive list please see below.
18R2 slow to load the final few modules in ARM mode
18M not waking up properly from sleep mode
18M becoming stuck in a state of toggling between ARM and TEST mode (test and arm LED blinking back and forth)
18M not properly receiving the downloaded script from the 18R2
18R not firing channel 00 manually
18R in some cases having continuity disappear and re-appear momentarily
Audio box incorrectly aligning when pressing the + and - buttons on the 18R2
Minor audio box distortion upon pausing and resuming script
18R2 displaying incorrect -99 signal for modules
36/72M not displaying continuity in direct sunlight
36/72M not displaying continuity in direct sunlight
Deadman button on the 18R2 could cause a script to not resume after being paused.
18R2 critical safety fix (only affected units sold from July 5th to July 24th, 2019, see the end of the following article for update instructions Are there any known issues in firmware 5.0.X?