DMX stands for "Digital Multiplex" and was created in the mid-80s as a standard communication protocol for controlling lighting fixtures. Since this time, the DMX protocol is used to control a variety of SPFX (special effects) hardware devices such as lights, flame projectors, cryo jets, fog, spark, bubble machines (yes! even bubble machines), and more... A simple Amazon.com search for "DMX lights" shows the variety of devices available for this protocol. In short, the DMX is a way to control hardware devices that do cool and fun things. And, you can do all of this with COBRA together with pyrotechnics! In short, any device that supports a DMX input can integrate with COBRA.
What are the COBRA DMX Specs?
If you don't know much about DMX, don't worry, you can skip this section. However, if you know a bit about it, please take a look below.
| | | |
| --- | --- | --- |
| Max DMX Universes | 99 (1-99) | You can have up to 99 unique DMX universes with one or more 36M/72M modules set to the same or different DMX Universe. |
| Max DMX Channels per Universe | 200 (1-200) | With 100 universes and 200 channels, you have up to 20,000 unique universe/channel combinations. |
| Max DMX Events per Script File | 10,000 | |
| Max DMX Events per Universe | 3,000 | |
| DMX Value Range | 0-255 | |
| DMX Timing Resolution | 1/100th second | |
| DMX Value Change Frequency | 200 channels in 1/100th second | |
| Max Cable Length / Devices | Up to eight DMX devices to 500m XLR cable | See What is the maximum number of DMX devices across XLR cable length can a 36M or 72M support? for more information |
How does COBRA output to DMX devices?
In order to output DMX from COBRA, you need to upgrade your 36M or 72M with the 36M/72M DMX Upgrade Kit. This adapter replaces the USB port with an RJ45 (CAT5) port and uses a special cable to output to a 3-pin DMX connector.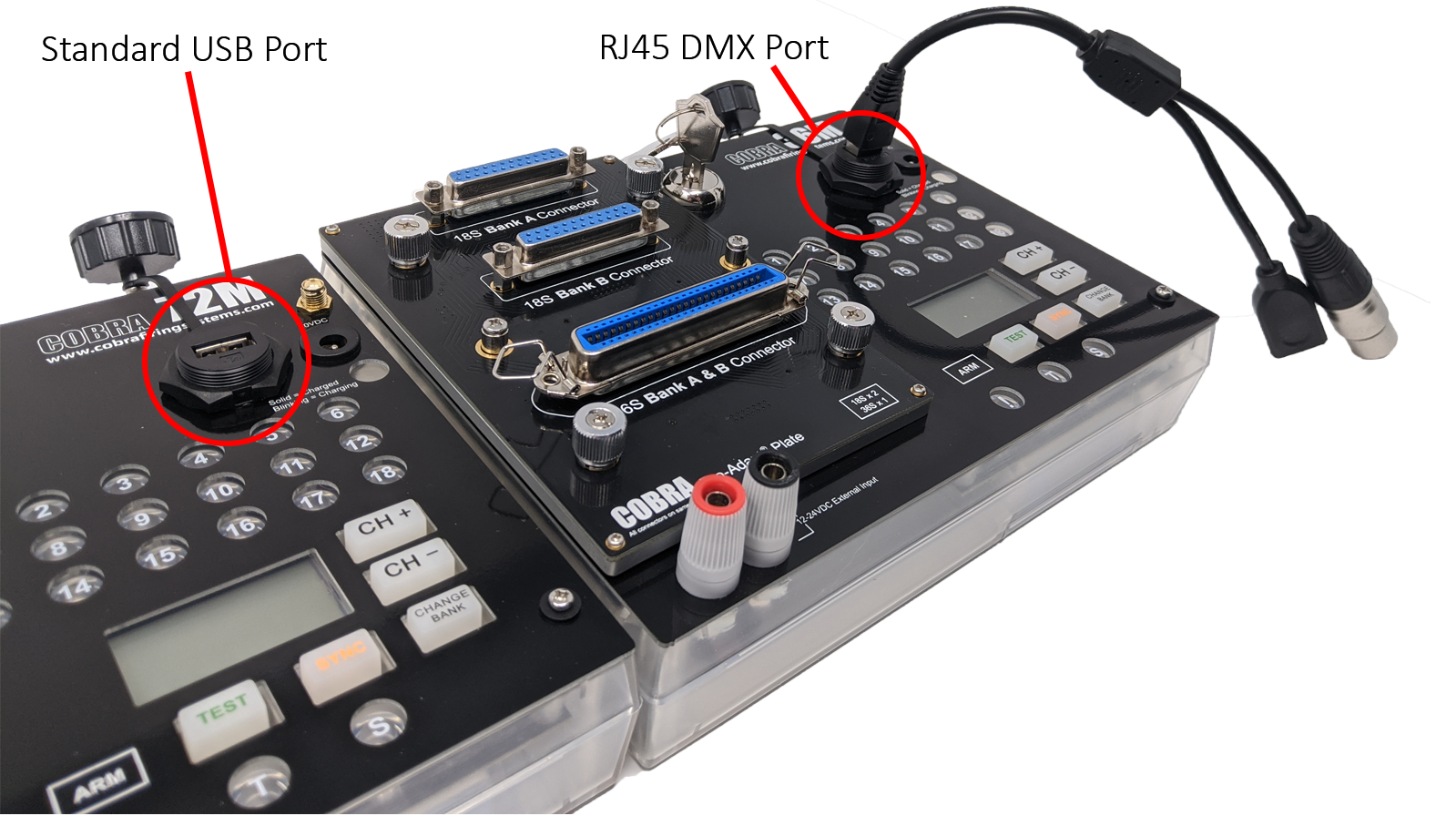 With the DMX adapter installed, you can "daisy chain" one or more DMX devices to the 36M in a series cabled manner using 3-pin DMX cables. You can run 3-pin DMX cables several hundred feet across multiple devices without issue. See COBRA DMX Technical Specifications for more information.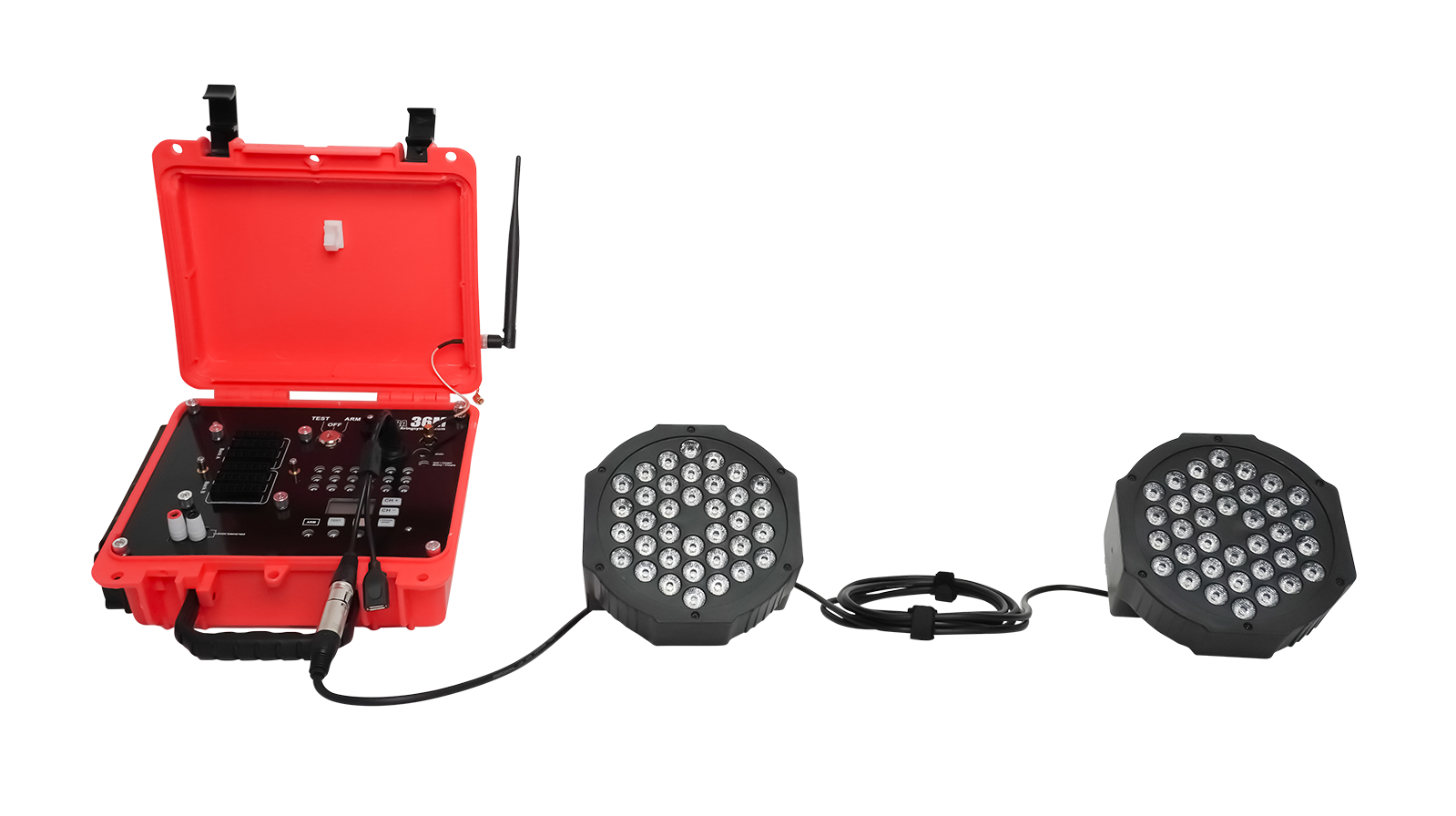 How do you create a DMX script for COBRA?
The easiest way to script for DMX is to use the COBRA Show Creator software. Using COBRA Show Creator, you can select whether you want DMX in your script. Then, you can add DMX events in the script to control DMX devices. To learn more about DMX events and how they control DMX devices, see Understanding DMX Events. In addition to COBRA Show Creator, COBRA also accepts scripts created from Finale3D, a more advanced visual choreography software. For more information on COBRA Scripting with Finale3D, see Scripting with COBRA and Finale3D.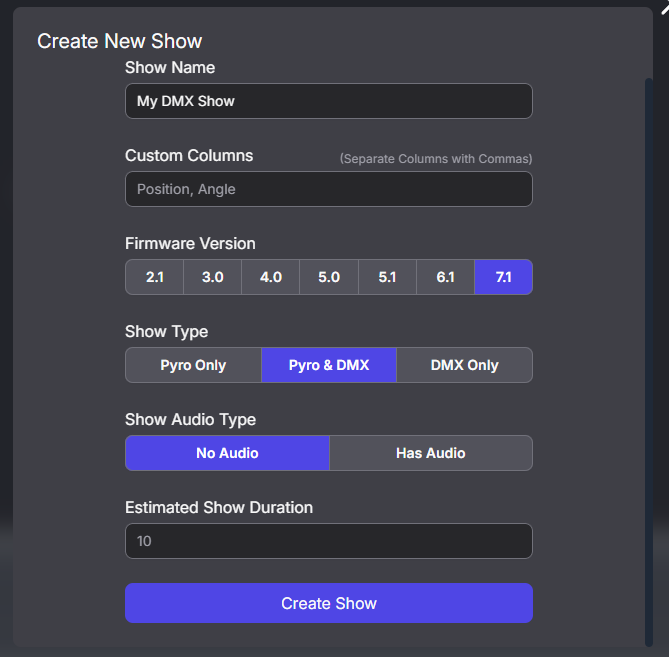 Once a script is created, how does COBRA control the DMX devices?
Once you create a script using COBRA Show Creator or Finale3D, you save the script file to your COBRA USB thumb drive and then insert it into the 18R2. This process will save the script into the 18R2 even when powered off or the batteries are removed. The 18R2 will automatically upload the DMX script into the 36M and 72M modules and output the DMX signal to the 36M/72M DMX Upgrade Kit when running.