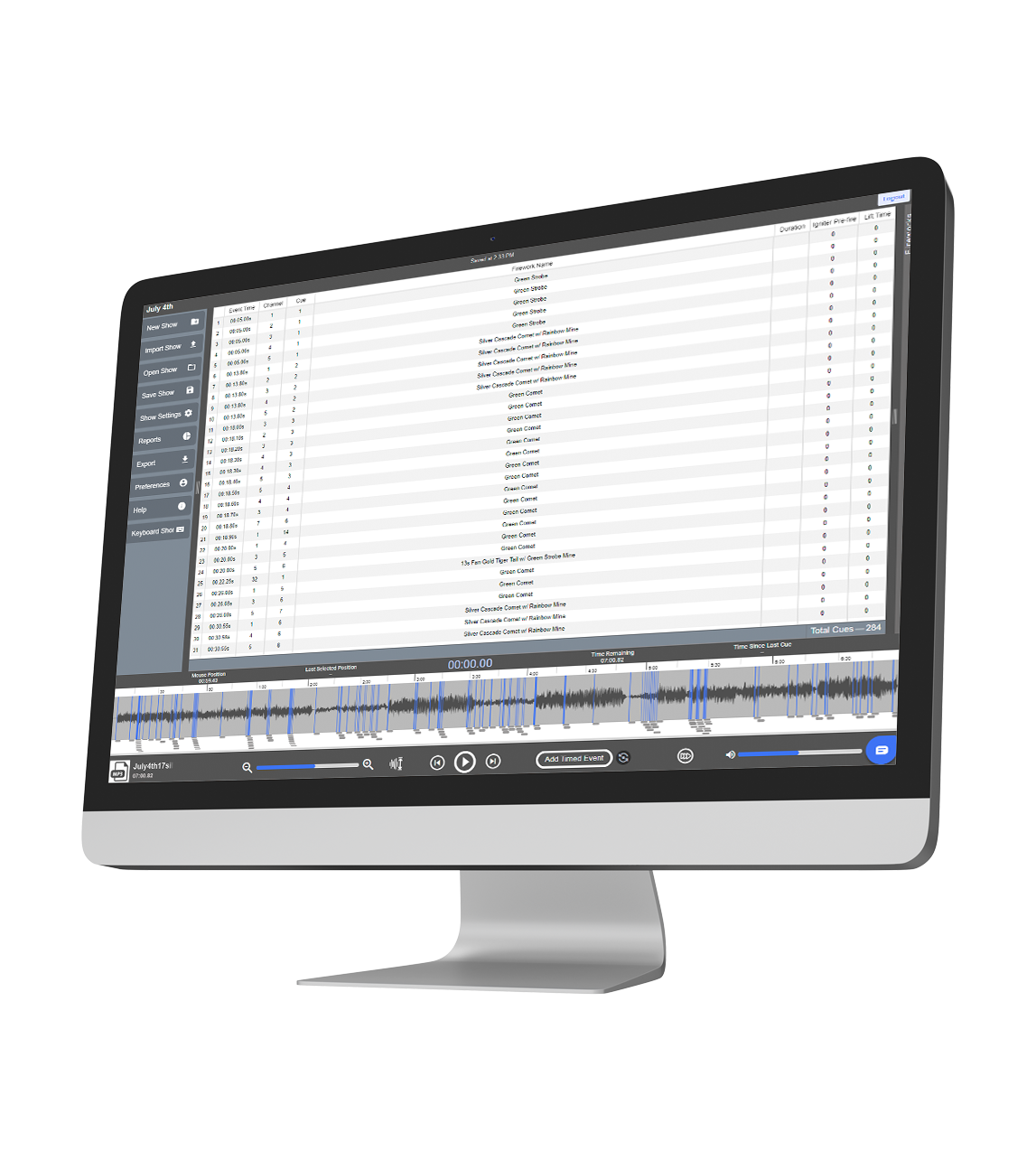 So what is COBRA Show Creator?
COBRA Show Creator is an in-house developed firework scripting software. The software has been designed to take full use of all of the COBRA Firing Systems features and capabilities from 1/100th of a second firing resolution to fully scripted automated shows with music.
---
What happens if I don't have an internet connection?
While COBRA Show Creator is a web-based scripting software, it does also feature a robust offline mode. While connected to the internet your computer will save your show to the COBRA Cloud after every script change. In the event you lose internet connection or are simply in a place that does not have internet connectivity (like a shoot site) the software will load the locally stored version of your show. If changes are made while offline, those are stored locally and uploaded to the cloud once your computer gains an internet connection again.
To access COBRA Show Creator while offline simply open your Google Chrome browser and go to https://www.cobrashowcreator.com. Even though you're offline, the scripting software will load as expected.
Please note that some features like My Fireworks and the ability to upload a new show to your Show Creator account are not available while the program is in offline mode.
---
Okay, so how do I keep track of fireworks?
Easy. COBRA Show Creator is linked with the Wiki Fireworks database. The Wiki fireworks database is a user run full-fledged fireworks database including 100+ brands, lift times, shot count, product videos, and more. Once you're logged into COBRA Show Creator you can easily import fireworks from the Wiki Fireworks website or import your own list right into COBRA Show Creator.
The My Fireworks tab within the software allows for bulk importing, making it easy to bring your pyro right into the software and start building your show. Download the bulk import CSV file here.
---
I'm signed in, and my fireworks are imported, now what?
This is where the fun begins. Sit back and enjoy the scripting process. If your show has music you can import your edited music file into COBRA Show Creator to have the waveform light up with the perfect spots to place your well-curated fireworks. The waveform will show the peaks and valleys of your audio file making it the perfect companion to designing a pyro-musical.
While scripting you can rest assured knowing that the COBRA Show Creator software is performing checks and balances on your script. The software will check to make sure you aren't using more cues than a channel can have with our Automatic cue assignment feature, as well as ensure your script is properly formatted for the firmware version your COBRA system is running.
Keep in mind, while COBRA Show Creator makes every effort to ensure your script is compatible with your specific firmware configuration, this does not replace the need for performing a dry run. For more information on performing a dry run please see How do I dry run my script?
---
Okay, I'm stuck. How can I get help?
Don't fret. We're here to help every step of the way.
In the event you get stuck, need some advice, or just want to get a second option, we're here to help. From within COBRA Show Creator, you have access to a fully-fledged live chat system. By using COBRA Chat you have access to a real person who can quickly pull up the exact show you are working on, look for issues, or even give advice on some best practices.
If needed, a COBRA support person can send a remote screen share session to you to provide additional support.
Don't forget, you are always welcome to call us at 1-518-741-4300.
---
This doesn't look right. How can I report a bug?
First off, we're sorry that your Show Creator experience has not been 100%. But, we can help.
Within COBRA Show Creator there is a bug reporting tool. This will send feedback to the team on what happened during your scripting session to help us better fix the issue.
to report a bug please click on the help menu on the left-hand side of your computer screen. From there, click the report an issue option. Once you've done that you'll be asked to enter some information on what happened and what you were doing when it did. The more information you can provide the better!
Someone from the team will follow up on every bug report submitted. If you need immediate assistance please feel free to use the built-in chat or give us a call at 1-518-741-4300.
---
I see an option to "switch to beta", what is this?
COBRA runs two versions of the COBRA Show Creator software in tandem. One being our stable production release, and the other being our beta development.
For those looking for the most stable platform and are okay with not having the newest features the moment they are released, will want to use the production site. This version can be accessed by going to https://www.cobrashowcreator.com.
To assist in testing new features and speed up the development process COBRA also offers a beta branch of the COBRA Show Creator software. The beta site allows those who want to be on the bleeding edge and gives them the ability to use new features the moment they become available. The beta version of COBRA Show Creator is accessible via the "switch to beta" button within the production branch of the software or by visiting https://beta.cobrashowcreator.com. All your saved shows and fireworks will be accessible from the beta site.
When testing on beta.cobrashowcreator.com we ask that you let us know about potential bugs or general usability issues by submitting a bug via the in-app bug reporting tool. You may also reach out via the COBRA Show Creator chat or email us at help@cobrashowcreator.com.